11 May 2023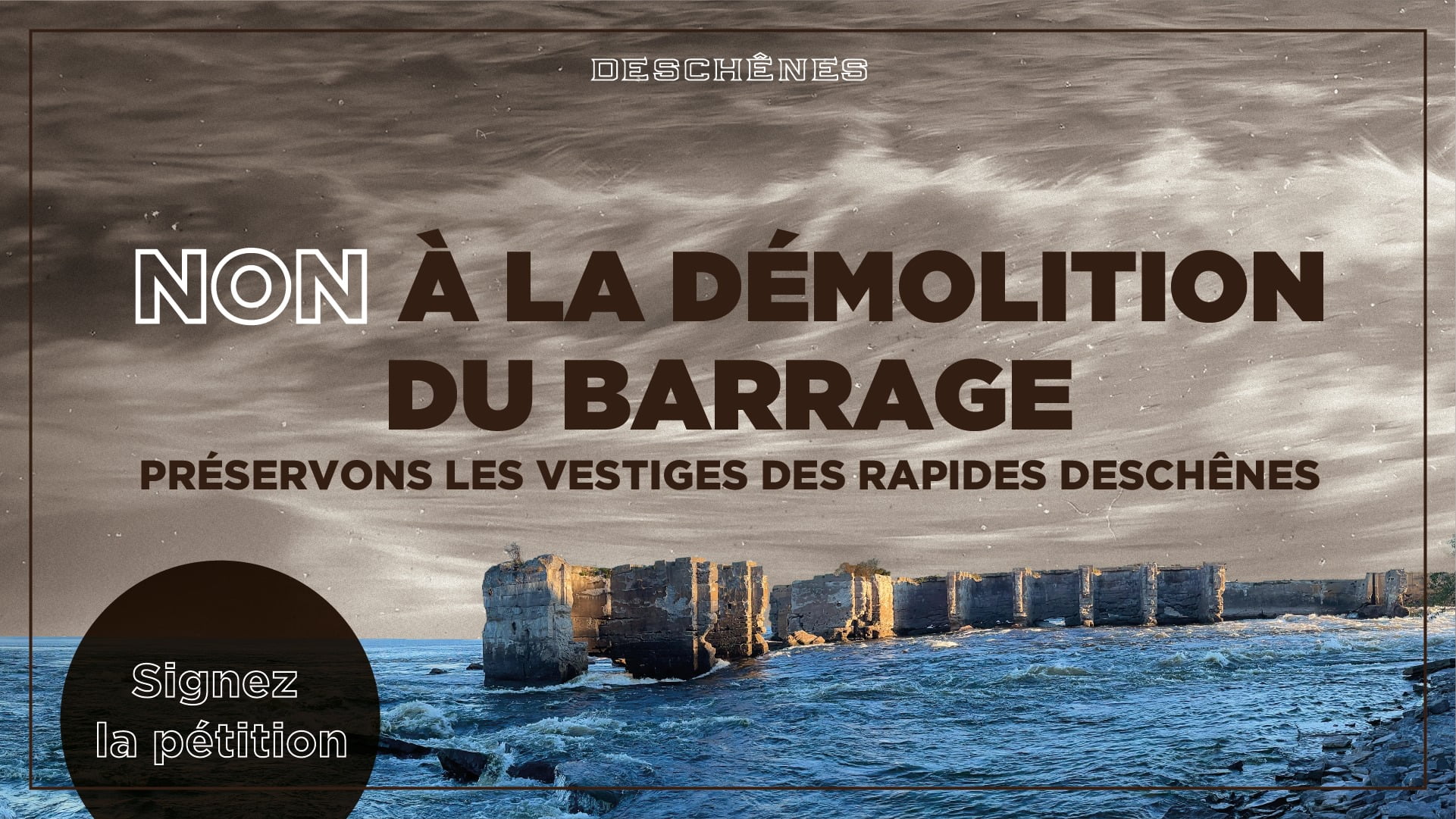 To members and supporters of Aylmer Heritage Association
We bring to your attention the urgent actions being undertaken to save the ruins at the Deschenes rapids. Your individual support would be appreciated in signing the petition and joining the gathering on May 17. This is a major community effort to preserve this important part of our local heritage.
Thank you.
Richard M. Bégin and Enid Page, Co-presidents.
Here is the address of the petition https://www.assnat.qc.ca/fr/exprimez-votre-opinion/petition/Petition-10179/index.html
---
"Quebec's Ministry of Transport and Sustainable Mobility recently launched a call for tenders for the demolition of the remains of the Rapides Deschênes dam. Of course, the community reacted strongly to this announcement, the ruins having an inestimable value for Deschênes, ornithologists as well as for users of the bike path. Given the environmental impacts that the demolition work would have and the historical value of the site in the region, Caroline Murray, councilor for the district of Deschênes, is launching a petition and asking the Government of Quebec to preserve the identity landscape of the neighborhood and to designate the heritage character of the Rapides Deschênes site. This initiative is supported by André Fortin, Member of Parliament for Pontiac, as well as by the Deschênes Residents Association, who are joining forces to mobilize the population in order to preserve the ruins. The community and the city of Gatineau want to maintain public and safe access to the Ottawa River and the landscape of the rapids. A first mobilization is organized: The population and representatives of the media are invited on Wednesday, May 17 at 6 p.m. at the André-Touchet Community Center (57, chemin Vanier, Aylmer sector) for an exploratory walk along the edge of the Rapides Deschênes site followed by an information evening that will begin at 7 p.m. at the André-Touchet Community Center.
Looking forward to seeing many of you there!
DESCHÊNES RESIDENTS' ASSOCIATION"
---
Facebook link for the event to show your interest: https://www.facebook.com/events/1867161376992034?ref=newsfeed
Here are two articles on the subject The value of the ruins of the Deschênes rapids will be reassessed by the Ministry of Culture
https://www.ledroit.com/actualites/actualites-locales/gatineau/2023/05/08/la-valeur-des-ruines-des-rapides-deschenes-sera-reevaluee-par-le-ministere-de-la-culture-CZBLXW3X2NGR3IXYGOIEHIGUEY/?fbclid=IwAR3GI9rOVH4hc5bEdIye7EWDN6pG8hkF24wY2uFrdDLvC8-olAyzAPZIKOE 
Gatineau councilor wants stronger heritage protection for Aylmer ruins
https://www.cbc.ca/news/canada/ottawa/heritage-designation-aylmer-ruins-caroline-murray-1.6836387