16 February 2023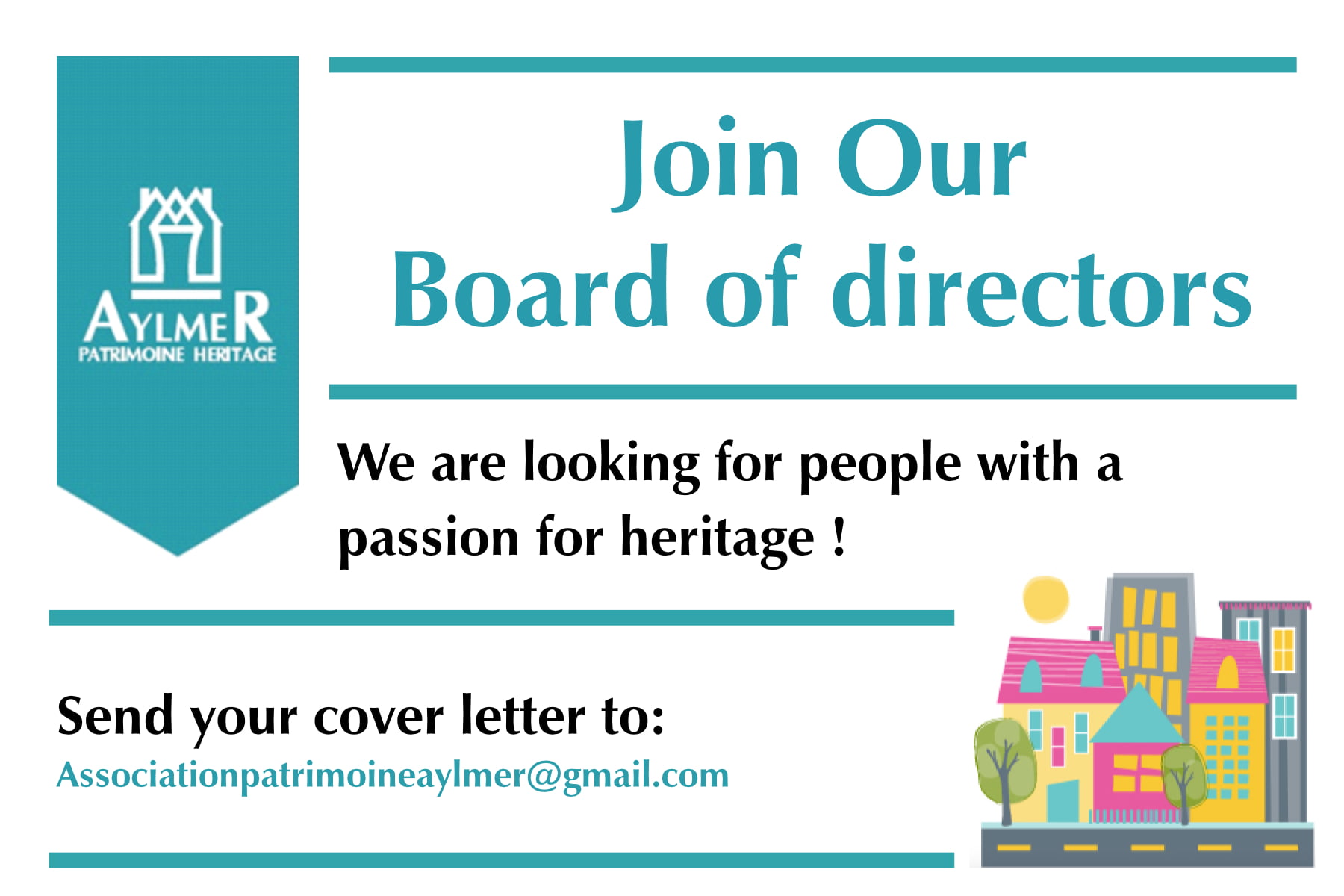 The Aylmer Heritage Association (AHA) 
is looking for new people to sit on its Board of Directors.
Are you passionate about heritage? This is your chance to be at the heart of action to defend, preserve and promote Aylmer's built heritage!
The AHA is a non-profit organization that has worked since its creation in 1975, thanks to successive groups of volunteers. The mandate of this association is to promote and preserve the built, natural and intangible heritage of Aylmer. We preserve and make available to the public archives relating to the heritage of Aylmer and the Outaouais.
At the next Annual General Meeting (AGM), on Sunday March 26 2023, a minimum of three (3) seats (max 8) will have to be filled. This is an exceptional opportunity to join our Board of Directors!
Areas of expertise sought
Field of heritage, museology, history or archives
Architecture
Communications
Accounting, financing, philanthropy
Non-profit organization management, organizational management, project management
To apply
before Friday March 10, 2023.
Some tips for writing your letter :
Specify your area of expertise and talk about your experience;
Tell us about your passion for Aylmer's heritage: what you particularly like, your vision for the future;
Share with us your ideas, your ambitions or your projects for AHA.
REMINDER – In order for your candidacy to be accepted, you must become a member of the AHA ( https://www.zeffy.com/fr-CA/ticketing/dbc44673-7809-4552-927f-6adccccbedd5 ) and present yourself at the AGM on Sunday March 26, 2023 at 2 p.m. This will be an opportunity to meet the members in person and witness the nomination process.
Selection
The letters of presentation of the candidates will be sent to the members.
At the AGM, members will nominate candidates of interest and elect the selected candidates.
For more information, visit our website:
https://www.facebook.com/PatrimoineAylmerHeritage
Write to our coordinator: Dominique Dufour:
directionpatrimoineaylmer@gmail.com,
or call him at
819-684-6809 on Tuesdays, Wednesdays or Thursdays.